New Interview With Austin: GET TO KNOW BAE!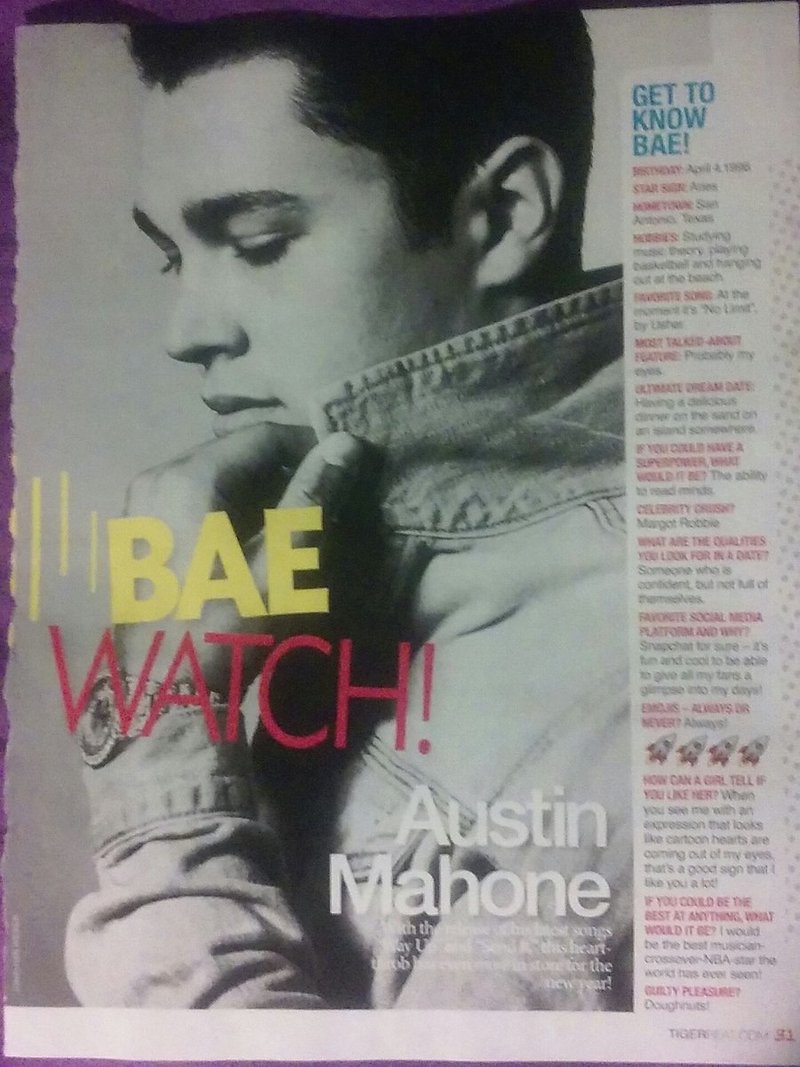 Austin Mahone recently did an interview with Tiger Beat Now Magazine, where he discussed his hobbies, ultimate dream date, and more. Check out the interview below:
GET TO KNOW BAE!
BIRTHDAY: April 4, 1996
STAN SIGN: Aries
HOMETOWN: San Antonio, Texas
HOBBIES: Studying music theory, playing basketball and hanging out at the beach
FAVORITE SONG: At the moment it's 'No Limit', by Usher
MOST TALKED-ABOUT FEATURE: Probably my eyes
ULTIMATE DREAM DATE: Having a delicious dinner on the sand on an island somewhere
IF YOU COULD HAVE SUPERPOWER, WHAT WOULD IT BE? The ability to read minds
CELEBRITY CRUSH: Margot Robbie
WHAT ARE THE QUALITIES YOU LOOK FOR IN A DATE? Someone who is confident, but not full of themselves
FAVORITE SOCIAL MEDIA PLATFORM AND WHY? Snapchat for sure - it's fun and cool to be able to give all my fans a glimpse into my days!
EMOJIS - ALWAYS OR NEVER? Always!
HOW CAN A GIRL TELL IF YOU LIKE HER: When you see me with an expression that looks like cartoon out of my eyes, that's a good sign that I like you a lot!
IF YOU COULD BE THE BEST AT ANYTHING, WHAT WOULD IT BE? I would be the best musician-crossover-NBA-star the world has ever seen!
GUILTY PLEASURE? Doughnuts!